Past Litters & Customer Comments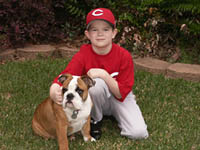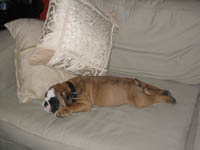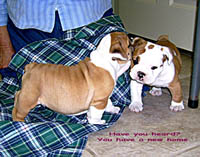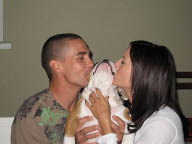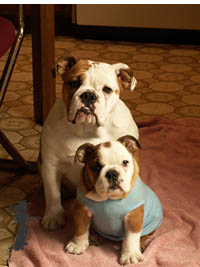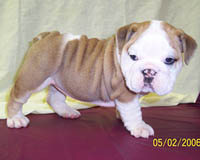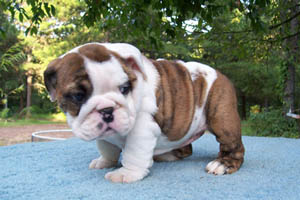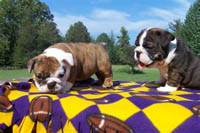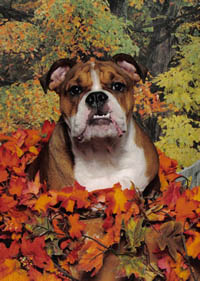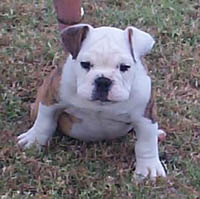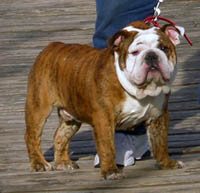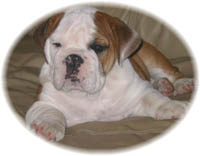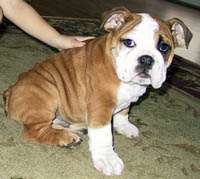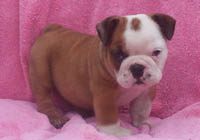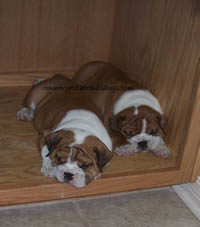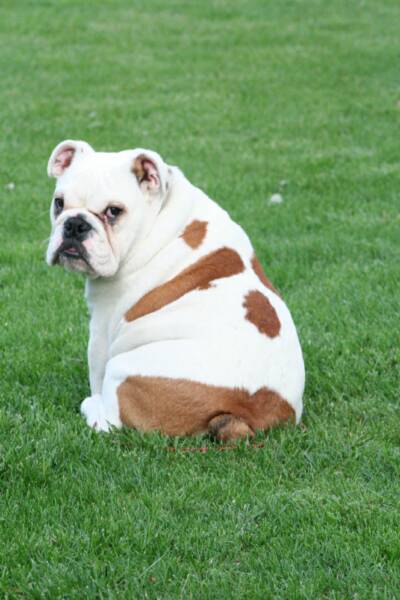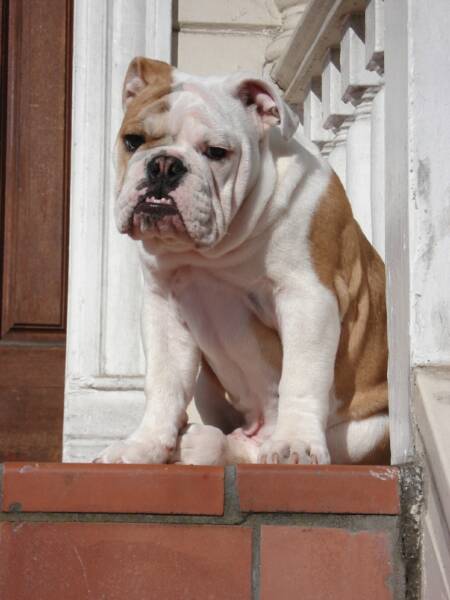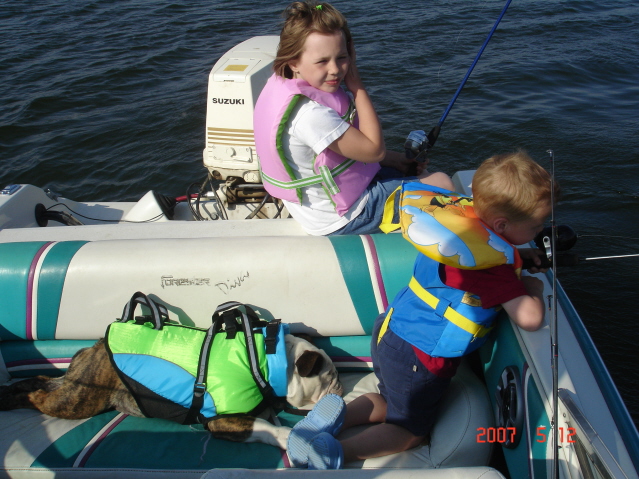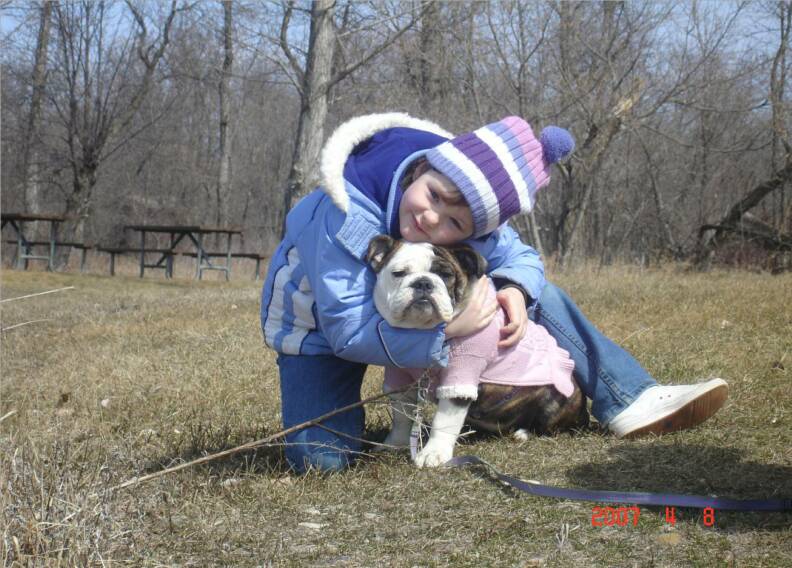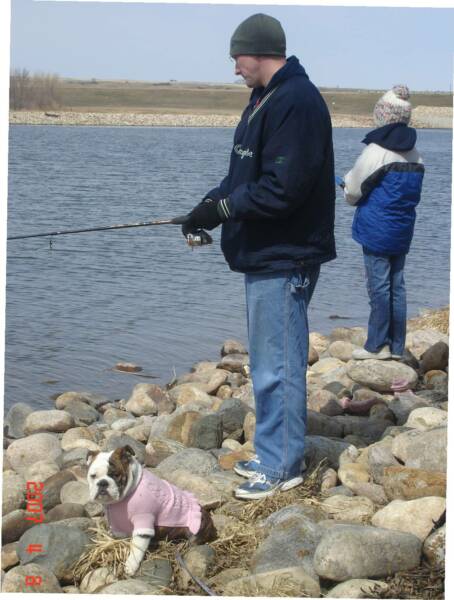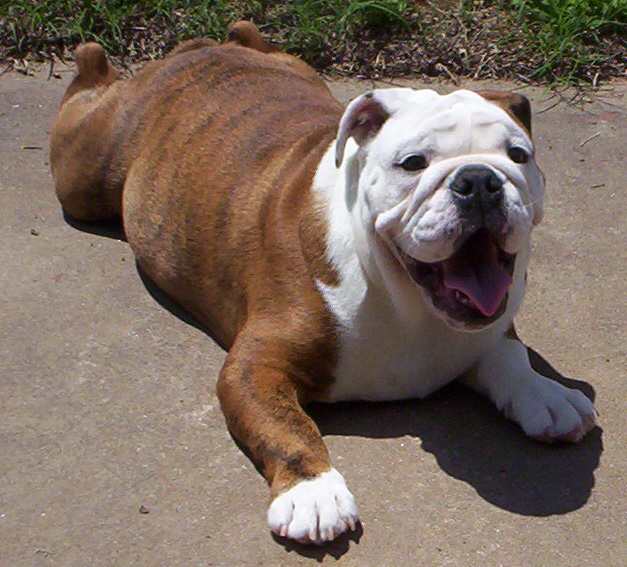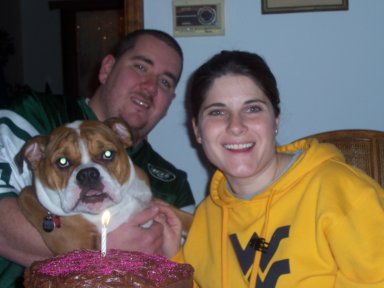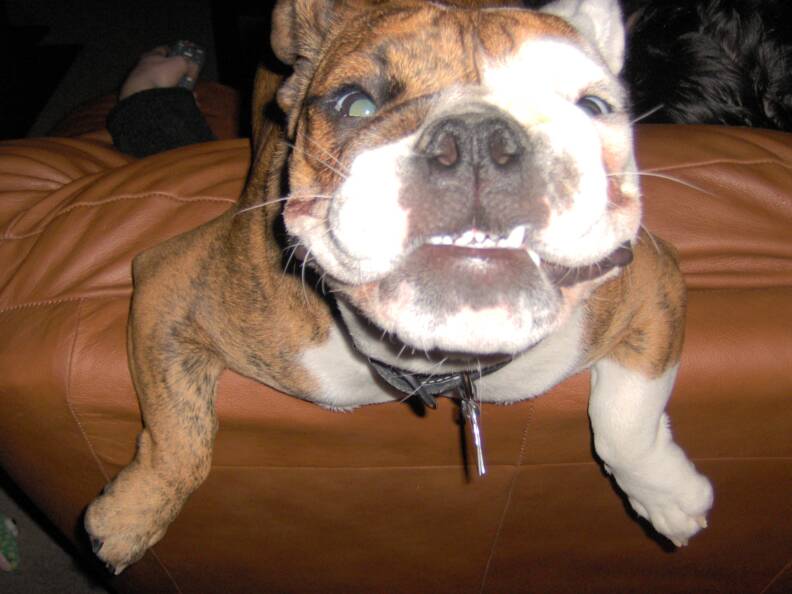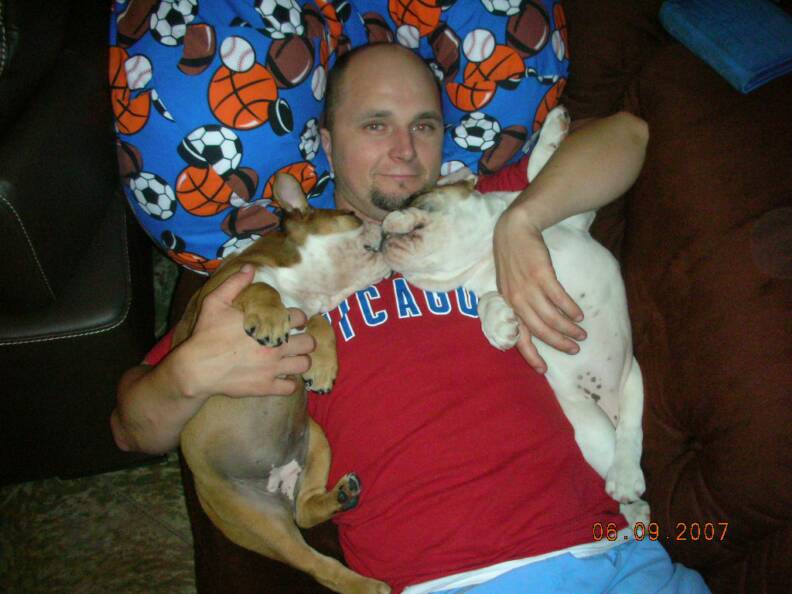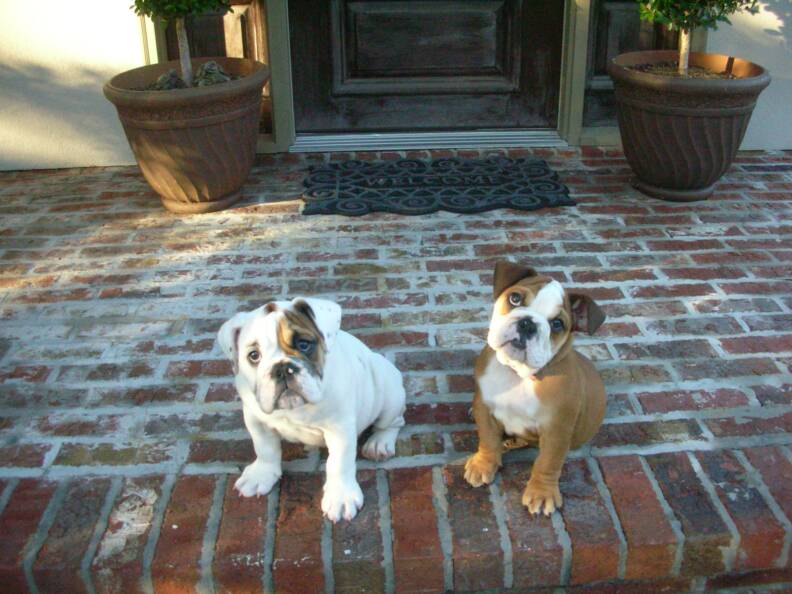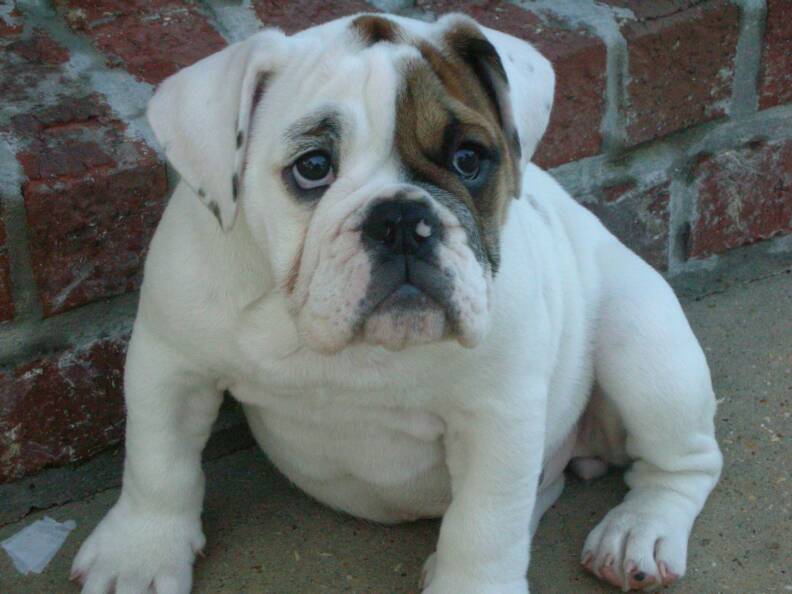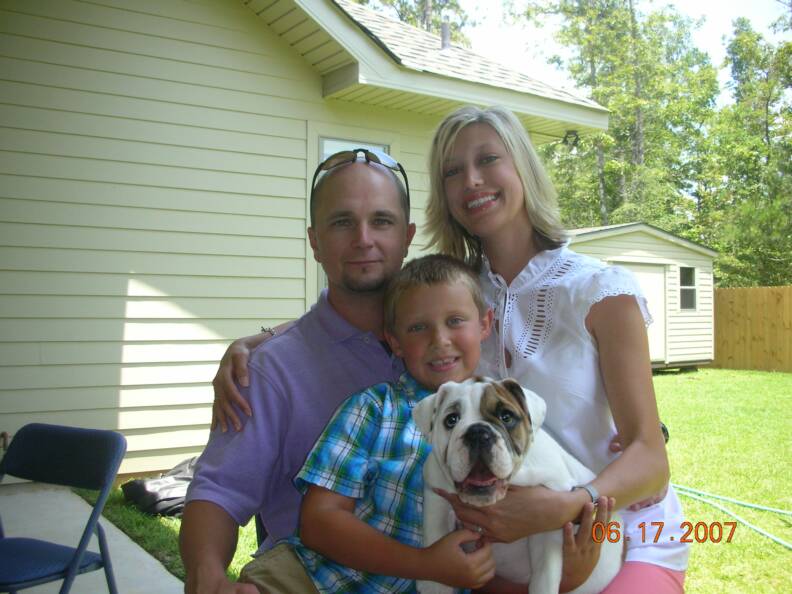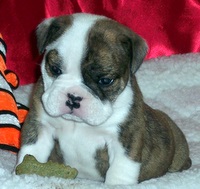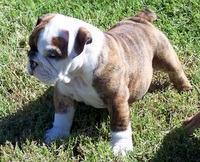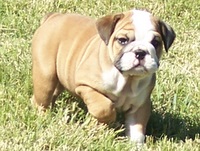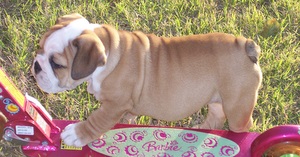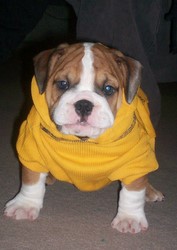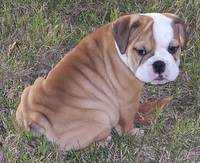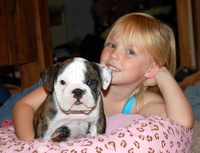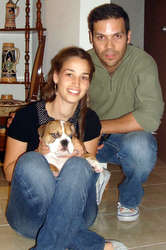 AKC English Bulldog Puppies for Sale

AKC English Bulldog Stud Service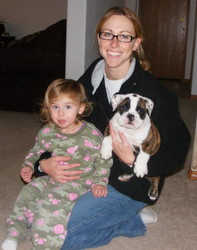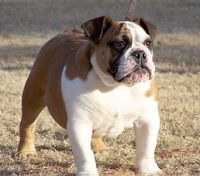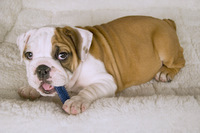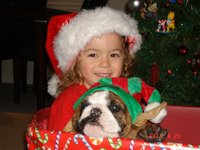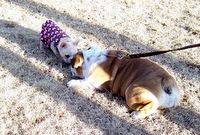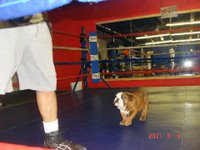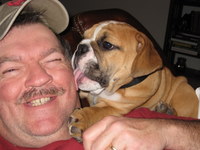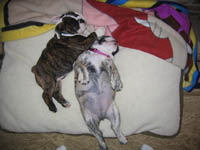 Bailey still loves her skateboard!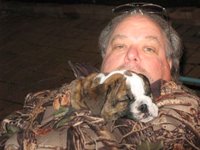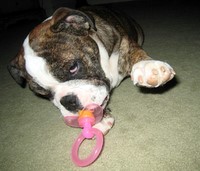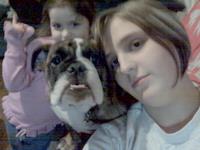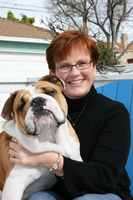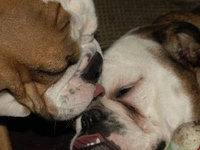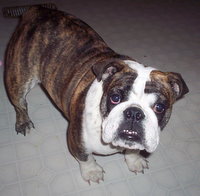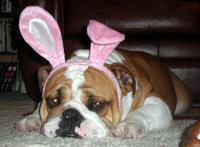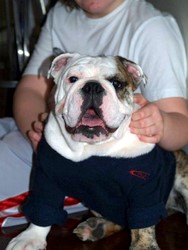 Andrew with his best friend Rocco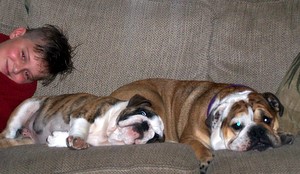 It's been just over a year since Hoss (Cracker Jack) was born and I wanted to send you a few updated photos of our baby.  He now weighs 76 lbs and my husband and sons call him piggy but he'll always be my baby!  He is such a wonderful, welltempered, funny and beautiful dog.  He and our 4 year old female bully get along great and even though he is bigger than she is she still looks after him! 

I can't thank you enough for what a wonderful job you do with your puppies.  He is an angel.

Thanks,

Cliff, Heather, Bubba and Duke also Tinkerbelle and Hoss (Cracker Jack)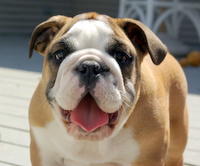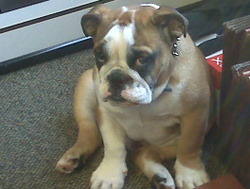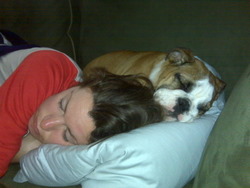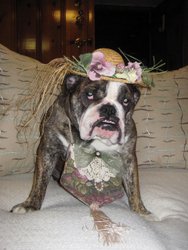 I thought this one was just ADORABLE as well.  It's my screen saver (for now...).He's the cutest and sweetest dog EVER.

We love him so much.

Thanks again,

Frank

He wakes us up every morning by climbing on top of our heads, signaling that he's ready to go out.  And I take him to work with me every day. I'm staring at him sleeping in his little dog bed right now. 

Thanks again!

Frank

It's Kathy from Maryland.  Here is another great picture of Shyann.  Thought you might like to add this one to your collection on your web page. She lets you do anything to her.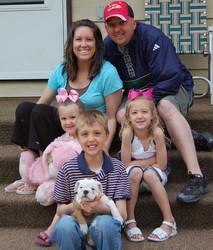 Harley Jackson with his forever family.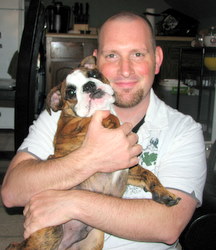 We just wanted to thank you for doing such a wonderful job raising Peyton.  We love him more and more as each day goes by.  Everything you told us about him as far as being playful and demanding your attention at all times was absolutely true!  We love watching him grow each day as he discovers more and more new things.  We have him in puppy training classes right now and he is definitely the prize pupil!  We hope that you enjoy these pictures of him. We will keep sending more pictures of him as we take them, which right now we're averaging about 10 pictures per day. 

Josh and Peyton

(Click
here
for a picture of Peyton with Kiley)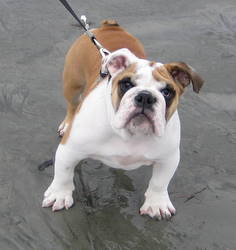 We wanted to let you know how blessed we are to have found you. We have researched for about a year on English bulldogs but hesitated to purchase one until we met you. You made our addition to our family a wonderful experience. With all your comforting tips to your helpful advices- you made us feel at ease. Kingston (formerly Brady) has brought so much joy and "comedy" into our lives that I can't imagine not getting Kingston at all. All the loving, caring and patience that you put into raising your bullies have really made a difference-we see it everyday in Kingston and others do too.

Kingston right now enjoys belly rubs by the edge of the sofa, guarding the fridge on hot days and visits at the beach. He really doesn't care for the water but he loves to play with the BIG dogs in the sand, (he wouldn't even give the little dogs the time of day if he wanted to). He's quite the character and we love him so much.

Francis and Suzanne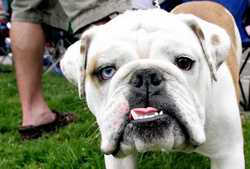 This is "Pork Chop".  We named him Sarge, he is doing well & is about 55 Lbs.  This is a picture that the local news paper took of him @ our 4th of July Parade & posted it on their web site.

Thank you for the Bully we all love him to death!

Sean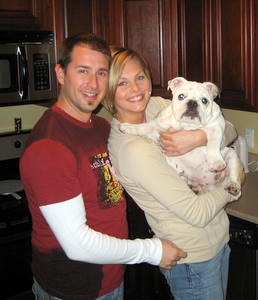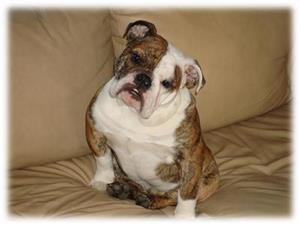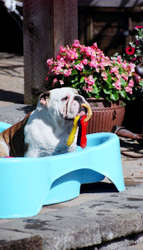 We love our Stella so much!  She loves to be with us and is afraid she will miss something we're doing - She would make a great CIA agent.  Thank you for all of your help.  I check your website all of the time for new products in your bulldog stores and to see the new puppies.  We ordered NuVet vitamins and really like them.  Thank you for all of the information, I love the products you have recommended.

The Scotts in Canada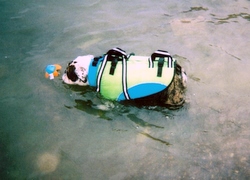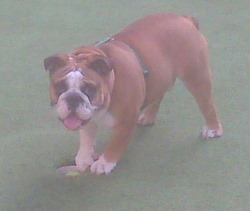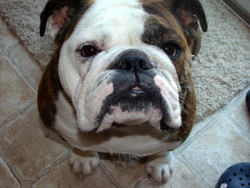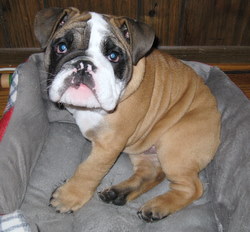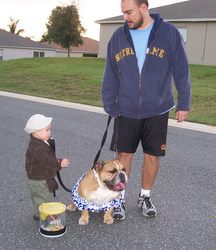 Hello from Orlando, Florida!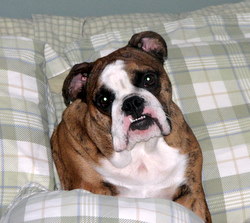 Peyton is doing great. He is 44 lbs now and he has a ton of energy. I did start him on the NuVet Plus vitamins last week.

He is barking at me as I am emailing you, as usual. Here is a few pictures of Peyton on the bed which is one of his favorite places and on of him on the chair he claims as his own.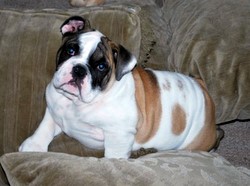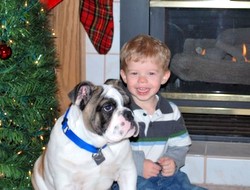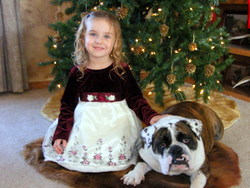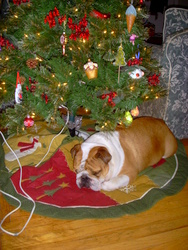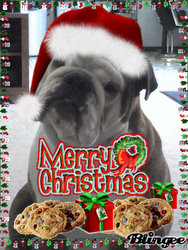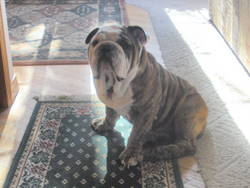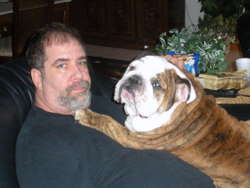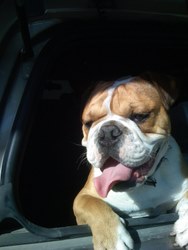 Here are some pictures from Peyton's first birthday.  Peyton had a great birthday.  We went to the Hungry Hound, which is a specialty dog store, complete with its own Barkery.  We bought him a birthday bandana, a birthday hat, and special bone shaped treats that him and Brody had instead of birthday cake.  The first picture is of Peyton showing off his birthday bandana, the second picture (above) is of him on his favorite chair at Grammy's house that he's not supposed to be on, the third picture is of him in his birthday hat, and the last picture is of him passed out at the end of the night after a long birthday celebration.  We can't believe he's a year old already.  We love him more and more as each day goes by.  He is still very, very demanding of attention and if he doesn't get it from you, he barks at you until you do.  We'll send more pictures soon.  Have a great rest of the night!

Kiley, Josh, and Peyton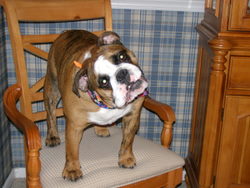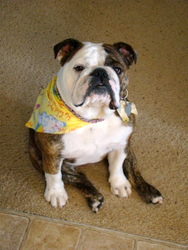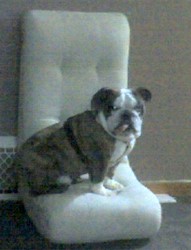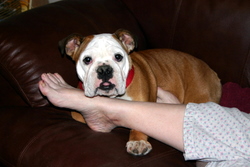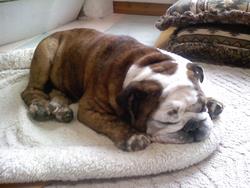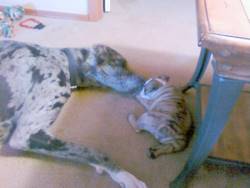 Hi from Phoenix!   Addison (Coco) is simply adorable!!   She is such a happy puppy, which is a compliment to you and your family.  She's social, playful, happy and a "little snapper turtle"   :0)      All the pictures you sent to me are incredibly cute, but they do not do this girl justice!!   Her coloring is astounding to say the least.   I swear she is getting cuter by the day!

Addison is getting to know my Great Dane Sage, and Sage is getting used to the little "ankle biter"!   They are really a sight to see playing with each other, especially since the 7 pounder chases the 150 pounder!    I will  send more pics as time goes on... and I will definitely keep in touch!

Thanks again to you and your family for raising such wonderful bully puppies!  Addison is a blessing.

- Kim and Addison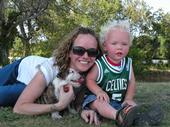 You weren't kiddin when you said it was challenging to get her picture lol.  Well here's one from yesterday when i got home!   She's doing great .. she cried 2x last night to go outside to go "pee time"  and it's almost noon and still no accidents .. of course i'm kind of OCD about taking her out lol!!

Well thank you again we are sooooo happy to finally have her home .. worth the 11 hour day on the road lol!! 

Talk to you soon,  The Senior Family xo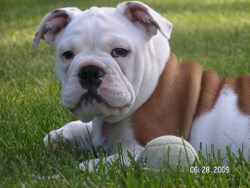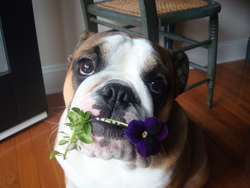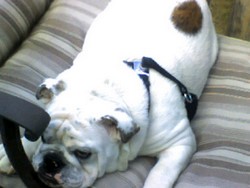 Spencer relaxing on the deck on the lounge chair that he thinks is his.  ~Michele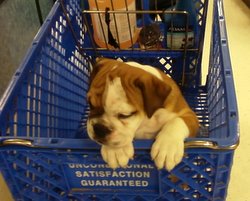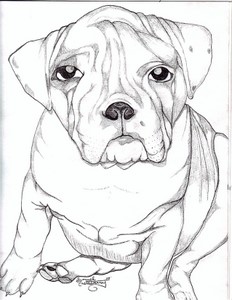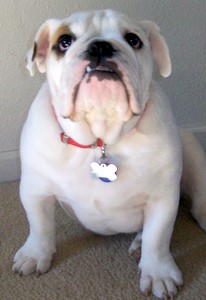 Here is something I drew of Chubbs Castleberry. We love him so much.  He has helped me to start drawing even more. THANK YOU!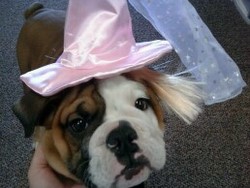 Here is my baby with his blonde wig! We love him it is oooh and ahhh everywhere we go. Everyone has to stop and pet him. He is so good about using the restroom outside. He loves chasing after us. He

loves giving kissed. He is so full of himself. We still havent heard his voice yet! Everyone talks about how big his feet are and that belly. All of the workers and customers at the pet store last

night followed us around the store! I felt like we were celebrities! He is just a perfect little man thats made our lives ten times better. Thank you. Hes everything and more than we hoped for.

Thanks, maddie.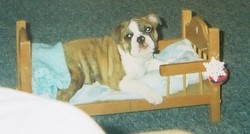 Here is some pictures of Luna.  She had another vet visit and more vacinations on tuesday .... the vet says she is perfect and healthy and gorgeous! She now weighs 17 pounds ....she does like her food lol. We finally have photos so I will send them too...We love her bunches and we have joined a local "English bulldog lovers" group so on saturday Luna will be in a bulldog parade for Halloween and we will meet some bully friends. Sounds like fun for us all.

Hope all is well with you and your family.

Your friend,

Teresa in NY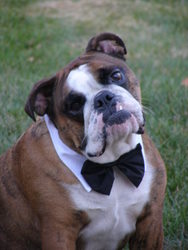 I just wanted to share a picture of Peyton with you that I thought you would love.  Josh and I are getting married in June and decided to use this picture of Peyton as the stamp for our wedding invitations.  Doesn't he look handsome?

Kiley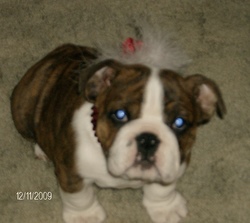 You definitely named little Prissy the wrong name…..she should be NELLIE….for NOSEY NELLIE!  There is not one thing that goes on at our house that she doesn't think involves HER!  She has got quite a little personality and I just absolutely love her!  She has made it to work with me one day and every where we go we are stopped by many admirers!  I have attached a picture of her in her Christmas bow and it fits her little personality to a tee.  It took about 1 week and the other guys (Tuff and Peetie) at home finally warmed up to her!  She was pretty persistent about making herself known!  Thanks so much for a lovely new family member, we love her to pieces!!!

~ Judy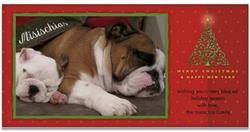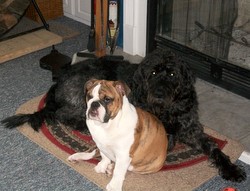 It has been too long since we last spoke.  Mazie is now 9 months old and an absolutely adorable companion to have around our crazy household.  We have renamed her Banan Grace Kelly.  Banan is Irish for white.  My Irish husband insisted. :-) Banan Grace cracks us all up on a daily basis.  She does the funniest things.  She has the best temperment that anyone could possibly want or need in a dog/friend. While my husband and I are at work, my mom "dog-sits".  My parents absolutely adore her and keep hinting that if she ever needed a new home, theirs would be it.  That ISN'T going to happen.  We love her too much.  I have included a couple pictures of her so you can see how much she has grown.  As you can see in the pictures, just the way she sits cracks us up.  She came to us with three big brown spots and now she is covered with little brown spots as well. Must be the Oregon air. :-)  The running joke when people comment on her spots is that she was crossed with a dalmation. My three children absolutely adore her. Thank you so very much for providing us with a best friend.  We couldn't have asked for more.   I am in the process of trying to convince my husband that Banan wants a friend, so maybe you will hear from us again soon.

Thanks again and with best regards

The Kelly's

Jason, Kristi, Jaden, Cetch and Neela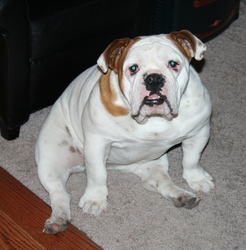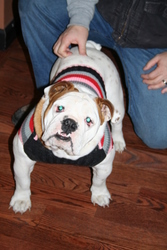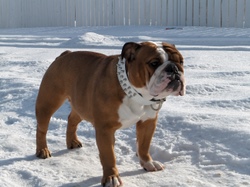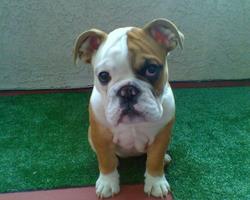 I just wanted to share our latest pic of Holly/Roxie.  She is getting so big so fast.  We love her to death.  She is so smart and we have her pretty much trained now, except for the leash.  Thank you so much for raising such beautiful pups.  Bruce is being deployed to Iraq in April, so it will just be Roxie and I.  He will miss her growing up and she will probably be full grown by the time he comes back.  She definetly is Daddy's girl but loves her Mommy too.  Anyway, we just wanted to share a pic of how big she is growing and how adorable she is.  Everyone loves her to death..Take care. Kim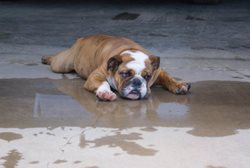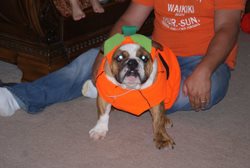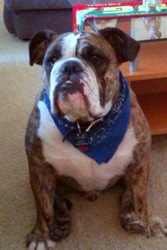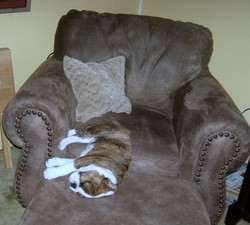 Good Afternoon!

I tell you…..she has a rough life!  I am surprised that you can't smell her up there in Ft. Smith – she is sooooo rotten!  I just love her to pieces and she is so much fun.  She is so nosey that is why she is sound asleep here.  She has to be right in the middle of everything!  The other dogs love her and she is doing great.  She has just about lost her baby teeth and has grown a lot; she is doing well!  Just wanted to send an updated picture!

Judy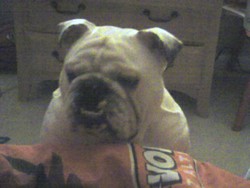 Here is Walker now known as Archie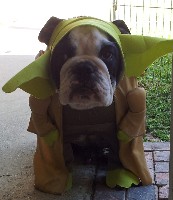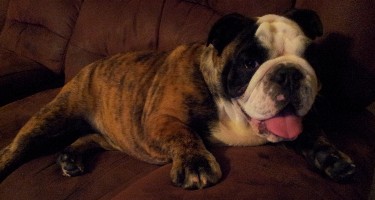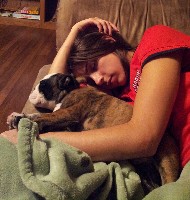 Please feel free to contact us

Laura Carry  

918-966-3153       

Email: carry@crosstel.net