More

Past Litters & Customer Comments

AKC English Bulldog Puppies for Sale

AKC English Bulldog Stud Service



Please feel free to call or e-mail anytime.

Laura Carry

918-966-3153

© Copyright by Country Estate Bulldogs 2004-2011, All Rights Reserved.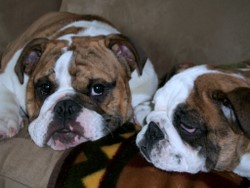 Well our vet yet again said your bulldog pups are such nice dogs. She thought Solara's incision scar looked great and that she was very healthy and happy. I gave her one of your business cards to place on her cork board in her waiting room (at her request)! So don't be surprised if you hear from many more customers in our area in NY.

Solara is still doing awesome ... no oops in the house at all. She adores Luna and Jeeter and will snuggle them up real nice. I have some nice pictures I will send along!

Thanks again for my awesome 2 bullies. So glad we found you!

Friends and customers for life ......

Teresa and Chris VanOrman

New York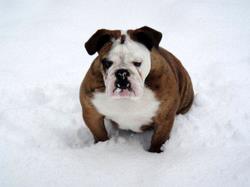 Wanted to send you a picture of our Liberty (she was your Lilly).  We just love her to death. She is a daddy's girl though.  I am constantly on your website looking at the puppies that you have for sale.  Mike keeps saying she needs a playmate.  The picture I am sending was of her first snow here in North Carolina and she loved it.

Mike and Loretta

North Carolina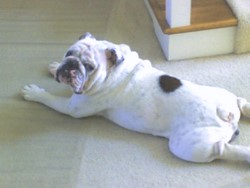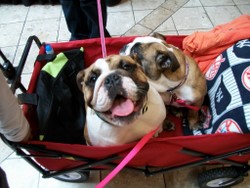 Yes they sure are awesome girls. They really make my days complete! I will say that the intent was for them to be Chris's pets ....lol, they are my pride and joy and he is soooo jealous! I am with them all day though so they are stuck to me like glue.  They are so funny ... I get their wagon and it is a race to see which one can get in the wagon first. Of course Solara is more athletic than Luna and always makes the jump and poor Luna ( being a tad chubby) can never seem to get her back in in the wagon without help from mom.

Talk to you soon!

Teresa in NY

Here are a few pics from tonight. They get along great at bedtime:) Still working on during the day. For the most part they are all doing well. It has been four days now we have has Princess. She is so well behaved and has not peed in the house yet! She is doing super on her training! She had two poopie accidents but that is it! I think that is super. Lola is still jealous of her, but is getting better with each day. By the end of the month, they'll be best friends. Thanks for providing us with such good dogs. I ordered the dimond eyes and it should be here this week, hope it works! thanks again!

Shaine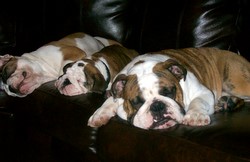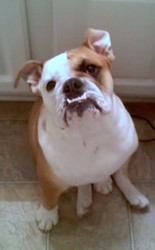 I just thought I would share the recent pic of Holly aka..now Roxie..She is going on 11 months and doing awesome and full of energy.  She just completed her first set of beginning training classes and just started her intermediate classes last night.  She is so smart, but also very stubborn...lol.

.She just loves the water, she has her own baby pool which she splashes around in on the weekends and loves taking baths..She is a true California Girl...lol..Can't wait to maybe be in a position to get her a playmate..Take care and thanks so much for raising such beautiful puppies.... Kim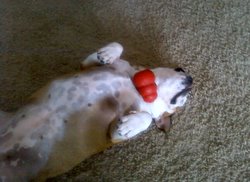 Rosie falls asleep after lots of hard work with her Kong toy.

Hi

Here is a great picture of Spencer he was hiding behind the bushes because of this bulldozer truck that was next to our house he was scared of it. He is so funny he would not come out of those bushes.

~Michele~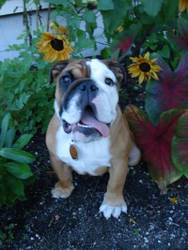 Hello 

         I just wanted to give you an update on Dozer.  He is growing so fast!  He is over 20 lbs now, and his feet are spring-loaded!  He gets so excited when it is time to eat that he flips around on all four paws!   He lost his first puppy teeth the other day – right in my running shoes! (In his effort to eat my tasty shoelaces)  LOL!  I tried taking some more pictures of him last night, but he was in a playful mood, and decided he'd much rather charge me and tackle both me and the camera!  I almost got a picture of the inside of his mouth ;-) 

We get compliments on him wherever we go – he is such a handsome boy!  I hope all is well, and hello from NY!

~ Jaime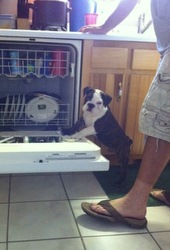 I want to thank you very much for getting him to us so fast. Everyone in our family loves him so much. He is doing great he loves to play with my nephew. He doesn't even sleep in his bed he wants in the bed with us!!!

Thank you again we love him so much!!

Heather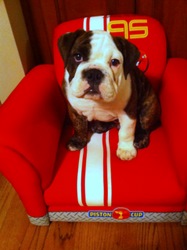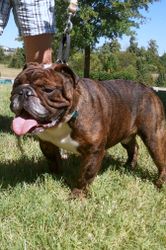 This is my Cash man.  I can't believe the compliments I get on this guy.  You have such beautiful dogs.  And when I can I will get my female from you.  That shampoo you told me about is great.  His coat is so shiny, but then it always was.  Just better now. 

Thanks so much for all your advice and help.

Patty

I could not pass up this kodak moment, look at them holding paws. They are quite the pair, she wears the pants in this relationship:) and sleeping on the couch...they are getting too spoiled!

                                                           ~ from the Bushnell Family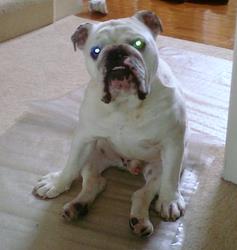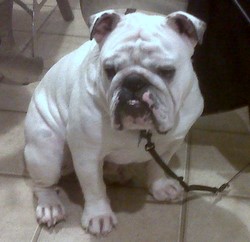 Spencer thinks he's human!  ~Michele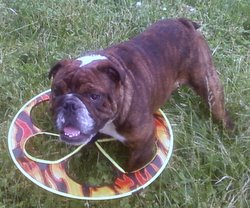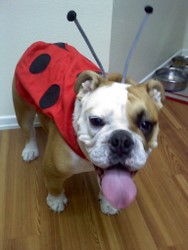 Hi

I thought i would share the latest Roxie picture, as you can tell she was a Ladybug for Halloween and wore her costume like a trooper.  She sat on the drive way with the family right by the candy bowl and let all the kids come up and pet her.  She is truely a people dog, she loves the attention from anyone.. I cannot go out of my house with her without someone stopping and wanting to see and pet her.  She loves riding in the back seat of my car with her head out the window just staring at everything around her.  She is truely my baby and definitely spoiled rotten..lol 

                                                                                                           Take care, Kimberly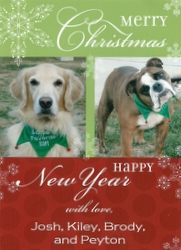 Merry Christmas and Happy New Year

from Josh, Kiley, Brody, and Peyton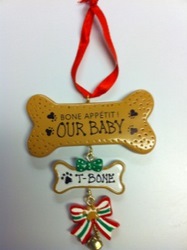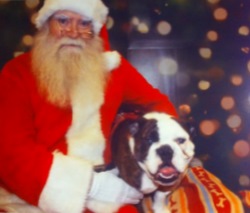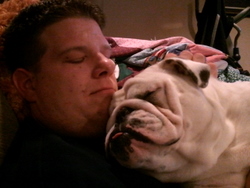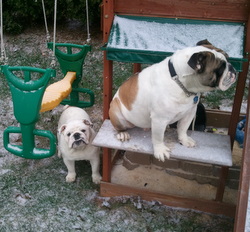 Hi

We got our first dusting of snow in Pennsylvania yesterday.  Rocko saw his first snow. He kept looking up in the sky. I can only imagine what is going through his mind.  He is getting so BIG. He is a little over 50 pounds and is so wonderful. He has such a gentle personality.  Moose is so much happier with a friend.

Hope you and your family have a wonderful Christmas.

Regards

Amanda Brown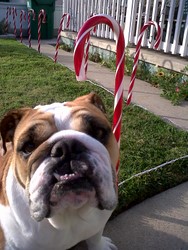 Hi

Hope all is well with you and your family

Bubba (Cowboy) is great.  He is now 3 years (will be 4 on 12/15), weighs 59 lbs and is great.  My spoiled boy, everyone loves him.  Great personality he loves to play with others and he loves everyone!  Thought you'd like an updated xmas pic

Thanks

Kim Taylor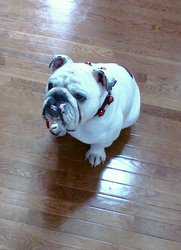 Spencer with Holiday Bells - He jingles when he walks.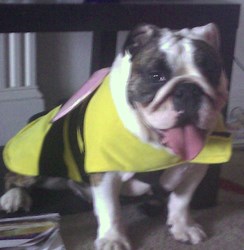 Hi

I wanted to thank you again for our little bundle of bully Pebbles a.k.a Fergie. She is doing well and has a good home. I'll be home in a year or so and my get a bully for myself. Either that or a Pugh, I'm not sure yet. By the way she loves children, she let my niece give her a full exam, lol.

Pebble even has a theme song "Pebbles is my girl, she's the best girl in the world, nobody better than my girl Pebbles...Pebbles!

Happy Holiday's to you and yours as well.

The Rivers Family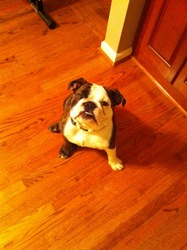 Just thought I would send this to you this was taken 2 days ago. Tbone thinks the total gym is his, he thinks everything is his. The last time we took him to the vet he weighed 40 pounds he is getting big. He is our baby we love him so much thanks for breeding great bulldogs.

Thanks

Heather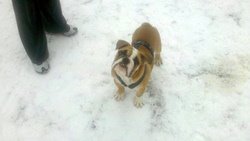 Duke's first trip to the Dog Park in New York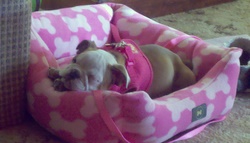 Here's Lucia, at home in Iowa.